ਦੇਖੌ ਜਦ ਰਾਜੀਵ ਗਾਂਧੀ ਦੇ ਸ਼੍ਰੀ ਲੰਕਾ ਵਿੱਚ ਹੋਇਆ ਸੀ ਹਮਲਾ ..
ਵੀਡੀਓ ਥਲੇ ਜਾ ਕੇ ਅਖੀਰ ਵਿਚ ਦੇਖੋ ……….
A former Sri Lankan sailor, who had attacked visiting Prime Minister Rajiv Gandhi with a rifle butt in 1987, was on Monday accused by the government of making an astrological prediction about the death of President Maithripala Sirisena by January 26 next year. Nimal …….  Bopage, Secretary to the Ministry of Media and Parliamentary Affairs, said he had lodged a complaint with the police for an investigation.
He said Vijitha Rohana Wijemuni, who was jailed for attacking Gandhi, had made an astrological prediction on Facebook about the death of Sirisena. "This man claims to be an astrologer and he is predicting that the president will be killed by January 26," Bopage told reporters……….  "We see a conspiracy behind this and have asked the police to investigate because we suspect this to be part of a wider plot to assassinate the president," he said. "We had previously complained to cyber crime agencies on this but that was of no avail," he said.
ਵੀਡੀਓ ਥਲੇ ਜਾ ਕੇ ਅਖੀਰ ਵਿਚ ਦੇਖੋ ……….

Wijemuni was part of a naval guard of honour in July, 1987 when Gandhi was visiting Colombo to sign the Indo-Lanka Peace Accord which led to the Indian Peace Keeping Force being stationed in ………. Sri Lanka's north and east provinces as part of India's efforts to mediate in Sri Lanka's separatist civil war at the time.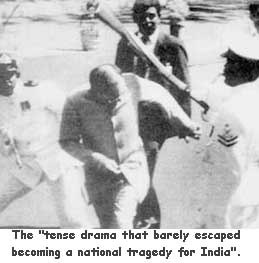 As Gandhi walked past inspecting the guard of honour, Wijemuni raised his rifle and attempted to attack the then prime minister who narrowly escaped. Wijemuni was court-martialled and after his jail term, became an astrologer.
ਤਾਜੀਆਂ ਤੇ ਸੱਚੀਆਂ ਖਬਰਾਂ ਸਭ ਤੋਂ ਪਹਿਲਾਂ ਦੇਖਣ ਲਈ ਹੁਣੇ ਹੀ ਪੰਜਾਬ ਨਿਊਜ਼ ਪੇਜ ਨੂੰ ਲਾਈਕ ਕਰੋ ਅਸੀਂ ਹਮੇਸ਼ਾ ਸਹੀ ਤੇ ਨਿਰਪੱਖ ਜਾਣਕਾਰੀ ਦੇਣ ਦੀ ਤੁਹਾਨੂੰ ਕੋਸ਼ਿਸ਼ ਕਰਦੇ ਹਾਂ , ਸਾਡੇ ਨਾਲ ਜੁੜਨ ਲਈ ਤੁਹਾਡਾ ਧੰਨਵਾਦ